Mohs Surgery
The Gold Standard in Skin Cancer Treatment
What is Mohs Surgery?
---
Mohs surgery is the most effective and least invasive way to treat skin cancers. The surgeon is also the pathologist which allows for precise margin control with removal of the cancer while sparing as much healthy surrounding skin as possible.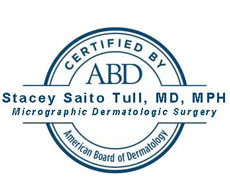 What to Expect
---
Just like the biopsy that was done to diagnose your skin cancer, Mohs surgery is performed under local anesthesia. When you arrive for your Mohs surgery procedure, you can expect to be in a safe and comfortable environment. Our team will provide you with the best care, ensuring that you're experience is a positive one throughout the entirety of your visit.
How to Prepare
---
After being referred for treatment of a skin cancer, you will be scheduled for a consultation with Dr. Tull and her team to begin our process.
Pathology report review - Dr. Tull will see and feel the biopsy site and any remaining tumor.
Recommended Treatment - We'll include a suggested surgery date and length of treatment.
For example, if your skin cancer involves the tear duct, you will be referred to an oculoplastic (eye) surgeon to perform the repair.
Pre-Operative Information:
What to Expect on Your Mohs Surgery Day ›
---
Post-Operative Care:
Second Intent Healing Instructions ›
---
After Discharge:
"Plan A" Instructions (after second intent) ›
Important note: "Plan A" and Rule of 2's instructions are for patients who have been discharged from the immediate post-operative period.
Have any questions about your visit?
It's very important to us that our patients are comfortable and informed about their procedures. We are always happy to answer any questions about your upcoming procedure.